MailStore Server von WindowsNetworking.com mit «Readers' Choice Award» ausgezeichnet
WindowsNetworking.com zeichnet MailStore Server mit Readers' Choice Award aus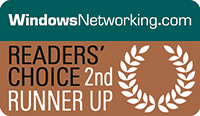 Wir freuen uns, eine besondere Auszeichnung bekanntgeben zu können:
WindowsNetworking.com
, eine der führenden englischsprachigen Internetseiten zum Thema Windows-Netzwerke und Administration, hat
MailStore Server
die Auszeichnung «Readers' Choice Award Second Runner-Up» verliehen.

Bei der Vergabe der Readers' Choice Awards können die Leser von WindowsNetworking.com in verschiedenen Kategorien ihre jeweils bevorzugten Lösungen wählen. Uns freut besonders, dass der Award nicht von einer Redaktion, sondern von zahllosen unabhängigen IT-Administratoren vergeben wird.

«Our Readers' Choice Awards give visitors to our site the opportunity to vote for the products they view as the very best in their respective category. WindowsNetworking.com users are specialists in their field who encounter various solutions for Enterprise Networking at the workplace. The award serves as a mark of excellence, providing the ultimate recognition from peers within the industry.», kommentiert Sean Buttigieg von WindowsNetworking.com.
Veröffentlicht am: 07.08.2015 | um 12:11:12